Prime Minister Narendra Modi andUAE's President Sheikh Mohammad bin Zayedon Saturday discussed the "urgent need" to combat climate change through collective global action, and enhanced cooperation between the two countries on climate ambition, decarbonisation and clean energies.
The UAE will host COP-28 later this year, and Modi extended his support for the country's incoming presidency.
During his visit, Modi also met COP-28 president-designate Dr Sultan Al Jaber. The PM later tweeted that their discussions were "ways to further sustainable development".
Also Read | PM Modi UAE Visit Highlights: India, UAE to start trade settlement in local currencies, says PM Modi in Abu Dhabi
Modi and bin Zayed exhorted the international community to expedite efforts to preserve the long-term goals of the Paris Agreement through fulfilment of nationally determined contributions and display of solidarity and support. "While firmly upholding the principles and provisions outlined in the United Nations Framework Convention on Climate Change (UNFCCC) and the Paris Agreement, including the principles of equity and common but differentiated responsibilities and respective capabilities, considering the diverse national circumstances of each nation," the Ministry of External Affairs (MEA) said a statement.
In line with India's consistent demand for transfer of funds and technologies from developed to developing countries, both leaders underscored the urgent need for developed countries to fulfil the $100 billion delivery plan so that the goal can be met in 2023. They also recalled obligations under the UNFCCC and the Paris Agreement and called upon nations to take action for doubling the climate finance for adaptation to developing countries from the 2019-level by 2025, in the context of achieving a balance between mitigation and adaptation in the provision of scaled-up financial resources.
The two leaders underscored the imperative of achieving ambitious, balanced, and implementation-oriented outcomes at COP-28 across all important pillars of global climate action: mitigation, adaptation, loss and damage, and means of implementation, including climate finance.
COP-28 will focus on the global stocktake, an exercise designed to take stock of global collective action to achieve the objectives of the conventions and the goals of the Paris Agreement.
Advertisement
The leaders discussed the need for enhanced mobilisation of greater finance and support to the developing nations, and increased international cooperation in supporting developing nations to respond effectively to the adverse impacts of climate change.
The meeting also focused on adaptation regarding climate change and increasing capacities in developing countries with a need to adopt a Global Goal on Adaptation while targeting critical areas such as transforming food systems, water management, safeguarding natural carbon sinks including mangroves, conservation and sustainable use of biodiversity, and safeguarding public health. The leaders also discussed "loss and damage", which was a central issue at COP-27, and operationalisation of loss and damage funds.
Most Read 1 Bigg Boss OTT 2 Finale Live Updates: Elvish Yadav is the winner of Salman Khan's show 2 Gadar 2 box office collection Day 3: Sunny Deol film collects a whopping Rs 135 cr in opening weekend, is second highest earner of 2023 3 OMG 2 box office collection day 3: Akshay Kumar film ends first weekend on a high, rakes in Rs 43.56 crore 4 Jailer box office collection Day 4: Rajinikanth wave intensifies, film set to enter Rs 300 crore club 5 India vs West Indies, 5th T20 Highlights: King finishes off with a 6, WI clinch 1st T20I bilateral series win over IND since 2016 Also Read | How India and UAE are planning to promote use of local currencies for cross-border transactions
Apart from mobilising finance, both leaders further discussed the need for the international community to mobilise critical technologies for developing nations, as well as increased investment in renewable energy, green hydrogen, utilization and storage technologies, energy efficiency, and other low-carbon solutions.
Advertisement
They reiterated that the UAE and India unequivocally support universal access to affordable, reliable, and sustainable energy for all, as an integral component of a broader low-carbon development trajectory, recognizing that millions of individuals lack access to energy.
Also Read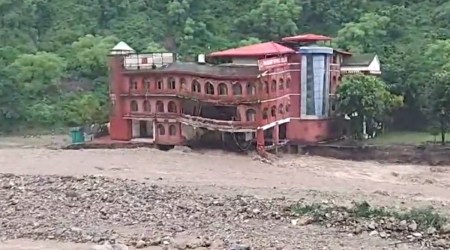 Watch | Defence College collapses amid heavy rainfall in Uttarakhand's De...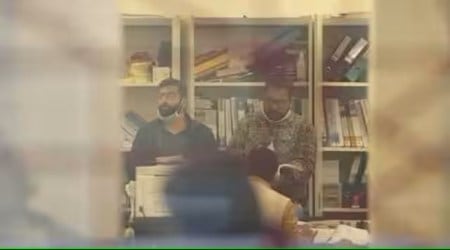 'They are dealers, not leaders': Retired judges, officers write to Presid...
No respite for Uttarakhand, Himachal Pradesh from extremely heavy rain ti...
Independence Day 2023 Live: In address to nation on eve of 77th Independe...
Both leaders also discussed the PM flagship Mission LiFE initiative for sustainable environment-friendly behaviour of individuals.
© The Indian Express (P) Ltd
Source of this article:http://gfumj.ccymyg.com/html/684e791491.html
Copyright statement: The content of this article was voluntarily contributed by internet users, and the views expressed in this article only represent the author themselves. This website only provides information storage space services and does not hold any ownership or legal responsibility. If you find any suspected plagiarism, infringement, or illegal content on this website, please send an email to report it. Once verified, this website will be immediately deleted.