Observing that Unique Land Parcel Identification Number could be useful like Aadhaar Card, President Droupadi Murmu said on Tuesday that the transparency that is coming from digitisation would curb unethical and illegal activities related to land.
Addressing after presenting 'Bhoomi Samman 2023' at a function organised by the Union Ministry of Rural Development, Murmu said, "I am happy to note that under the Digital India Land Information Management System, a Unique Land Parcel Identification Number is being provided which could be useful like the Aadhaar Card."
This would help in making proper use of the land parcels as well as forming and implementing new schemes, she said.
The President said, "Linking of E-Courts with land records and registration data-base would have many benefits."
Most Read 1 Bigg Boss OTT 2 Finale Live Updates: Elvish Yadav is the winner of Salman Khan's show 2 Happy Independence Day 2023: Wishes Images, Whatsapp Messages, Status, Quotes, and Photos 3 Gadar 2 box office collection Day 3: Sunny Deol film collects a whopping Rs 135 cr in opening weekend, is second highest earner of 2023 4 Bigg Boss OTT 2 finale: Alia Bhatt wanted to hide outside Bigg Boss sets to hug Pooja Bhatt after the show ended, says Mahesh Bhatt 5 Deepika Padukone gives glimpse of her life with Ranveer Singh, says he's married to someone who 'can't relax'
"The transparency that is coming from digitisation would curb unethical and illegal activities related to land," she said. Murmu said digitisation increases transparency. The modernisation and digitisation of land records would have a great impact on the development of the country, she said.
Digitisation of land records and its linkages with various government departments would help in proper implementation of welfare schemes, she said. It would also be of great help in case of loss of documents due to calamities like flood and fire, she added.
Also Read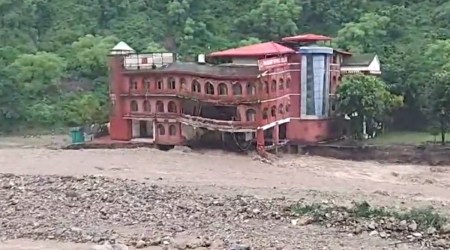 Watch | Defence College collapses amid heavy rainfall in Uttarakhand's De...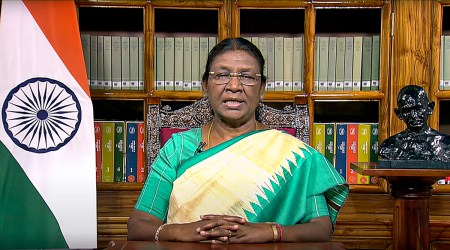 Full text | President Droupadi Murmu's speech on the eve of 77th Independ...
Independence Day 2023 Live: In address to nation on eve of 77th Independe...
Dreaded Hizbul Mujahideen militant's son hoists tricolour in Jammu's Kish...
The President presented the "Bhoomi Samman" 2023 to state secretaries and district collectors along with their teams who have excelled in achieving saturation of the core components of Digital India Land Records Modernisation Programme.
© The Indian Express (P) Ltd
Source of this article:http://gfumj.ccymyg.com/news/732b791443.html
Copyright statement: The content of this article was voluntarily contributed by internet users, and the views expressed in this article only represent the author themselves. This website only provides information storage space services and does not hold any ownership or legal responsibility. If you find any suspected plagiarism, infringement, or illegal content on this website, please send an email to report it. Once verified, this website will be immediately deleted.